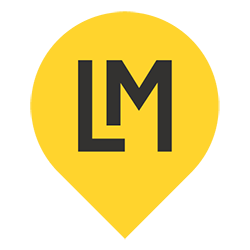 British Property Awards Regional Silver Winner 2020-2021
We have recently expanded our Lettings department and we are thrilled to have just been awarded Silver in Lettings regionally for the whole of South London by The British Property Awards.
ESTAS Customer Service Awards 2021
We have entered The ESTAS Awards 2021! Customer service matters. It is so important to us at Loney Miller. That's why we wanted to be part of the ESTAS as the awards are powered by real reviews from real customers experiencing a real service. It will also be a unique opportunity for the best UK property professionals to network, share ideas and celebrate together under one roof. The ESTAS awards are a celebration of all the hard work property firms put in over the year to help keep their clients happy by delivering outstanding customer service. Winning means so much as the results are based purely on customer service reviews from clients who have experienced a full service from their agent. All reviews have to be submitted by 28th February 2021. The shortlist will be announced in May 2021. Restrictions permitting there will be an awards ceremony, which over 1200 guests attend each year, on 22nd October 2021 where the winners will be announced. Watch this space....
PRESS RELEASE
Loney Miller joins national customer service award scheme recognising the best property professionals in the UK.
Loney Miller, the South West London based agent has entered The ESTAS Customer Service Awards. The ESTAS is the national award scheme which recognises the best estate and lettings agents, mortgage advisors, conveyancers and suppliers to the residential property industry. Winners are selected purely on feedback via ESTAS Customer Review platform which generates thousands of reviews from customers who have experienced the full service delivery from a property professional. Last year over 45,000 customers completed an ESTAS survey helping firms taking part to gain valuable feedback which enables them to improve their services for the future.
Founder of The ESTAS Group Simon Brown said "ESTAS has become a community of forward thinking property professionals who are committed to delivering great service and in turn changing the perception of the sector by the general public. The fact is 99% of agents, conveyancers and mortgage advisors do a fantastic job for their clients, our review platform and awards provide a kite mark of service excellence for any property professional involved in the home moving process."
The ESTAS Awards take place every spring at the Grosvenor House Hotel in London. Phil Spencer, the country's favourite property expert and ESTAS brand ambassador, announces the winners in front 1,000 of the UK's top property professionals.
Spencer says "I think it says a great deal about a firm who takes part in The ESTAS. They care about their reputation and they care about their customers. Companies who sign up to The ESTAS are committed to giving customers the best possible service they can."
Jonathan Loney and Maddie Miller, Directors at Loney Miller said "We take our levels of customer service very seriously because we know clients have a choice. We have always been very proud of the personal service we provide and this is great way to demonstrate how good we really are."
British Property Awards Gold Winner 2020-2021
We are delighted to have been awarded Gold by The British Property Awards for Lettings in SW18 for 2020-2021.
Every Estate Agent is mystery shopped and we are so pleased to have passed to a Gold standard. Customer service is incredibly important to us and we are thrilled with this award.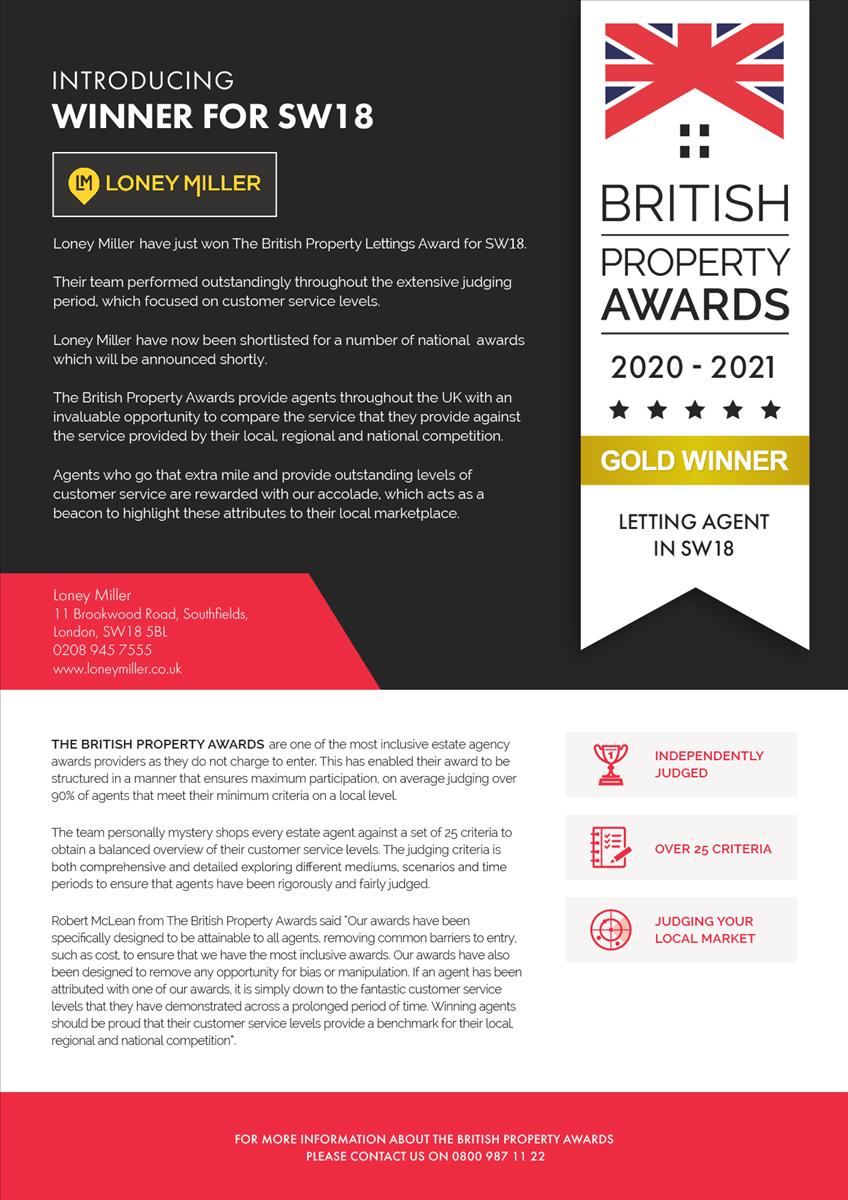 Best Estate Agent Guide 2021
The Best Estate Agent Guide shines a light on the best Estate and Lettings agencies and branches in the country. It is compiled by Property Academy with the support of one of the UK's most popular property portals, Rightmove. We are delighted to have finished in the top 5% in the country.
Winners of the Best Estate Agent Guide 2021
We are so excited to have made it into the Best Estate Agent Guide for the second year running! Thank you to everyone for their continued support.
Best Estate Agent Guide 2020
No other industry has an assessment quite like the Best Estate Agent Guide Awards and our business was selected from over 15,000 as being among the top 3% in the country. We are delighted to be recognised by the Property Academy for our commitment to offering the very best level of service in our industry.
Winners of the Best Estate Agent Guide 2020
We are delighted to be included in the Best Estate Agent Guide. What a great start to 2020!
BUILD Magazine Real Estate & Property Awards 2019
We are delighted to have been selected as one of the winners for BUILD magazine Awards for 2019

Published monthly, BUILD endeavours to bring you the latest need-to-know content and updates from across the global construction and property industries.
Keeping pace with a vast array of ever-changing sectors thanks to regular contributions from some of the world's foremost construction, design and real estate experts and firms, Build is home to the very best news, features and comment from the people and institutions in the know. Taking in everything from the latest products and techniques, to up-to-the-minute design trends and industry-moulding regulations, BUILD should be the first port of call for any construction or property professional looking to remain on the cutting edge when it comes to their or related industries.


Press release below

BUILD Magazine Announces The Real Estate & Property Awards 2019 Winners.
United Kingdom, 2019– BUILD Magazine has announced winners of the Real Estate & Property Awards 2019.
Showcasing winners from across the real estate and property space, from lettings and estate agencies to builders and investors and more, the 2019 Real Estate & Property Awards. Offers readers the chance to view the best of the best from across this vast market all in one place. Each and every one of our winners has been specially selected for their hard word and commitment to client service, as well as their knowledge of their chosen sector.
Discussing the success of these deserving winners, Natalie Farrell praised their hard work and commitment to excellence: "The Real Estate & Property Awards is one of the BUILD Magazine's flagship award programmes and we are delighted to be able to showcase this year's winners. It is with great pride that I offer my congratulations to everyone who has become one of the bastion's of excellence in this competitive industry."
To find out more about these prestigious awards, and the dedicated professionals selected for them, please visit https://www.build-review.com/ where you can view our winners supplement and full winners list.

British Property Award for "Best Agent in SW18"
Since opening Loney Miller in January 2018, we have been overwhelmed by the incredible local support.
We have built our business on referral and recommendation and intend on maintaining the high standards that form the basis of our success.
We are delighted to have won the British Property Award for "Best Agent in SW18".